I have already written of the big event this month, the benefit Concert for Aidan O'Connor on Friday January 20th at Tadg's on the 20th will feature three bands: Max Dodds & Trace Elements, Jay Gregg & Celtic Sounds, John Kuzel & Friends. All that entertainment plus a raffle & buffet to raise money for Aidan's bone marrow transplant. Please check this previous post for details.
Here are some more upcoming events that are worthy of note.
Friday 13th January from 8.30 pm – Dale Russ (fiddle) & Jay Gregg (guitar & fiddle) and his band @ Tadg's
No charge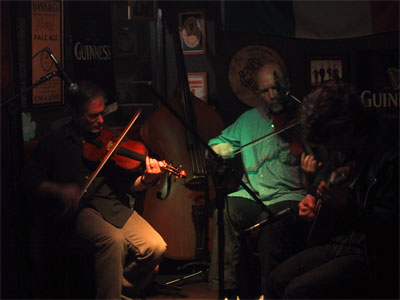 As Tadg says, "Dale is one of the most admired and respected Irish Fiddle players in the World…This will be one of the premier gigs of 2012 in Kyoto."
Access map here.
Saturday 14th January from 8pm – If you missed them the day before, Dale Russ & Jay Gregg play another gig @ Gnome
No charge (but tips please!)
Access map here.
Alternatively back at Tadg's that same night, "The Fabulous Antonio" will be playing a Samba & Bosanova Extravaganza from 8pm. Says Tadg, "The Fabulous Antonio entertains, with his rip roaring Bosanova Band sound. If you have not seen Antonio and his band you are in for a treat… Come early, this gig always gets a great crowd!" This event also has no charge.
Tuesday January 24th from 8pm -DK favorites max dodd's raw elements play 'Shokudo Live' @ UrBANGUILD
FREE!
Access map here.
Thursday 26th January from 8pm – Anders Trabjerg (button accordion). Anders is from Denmark but has been settled in Galway since 2000.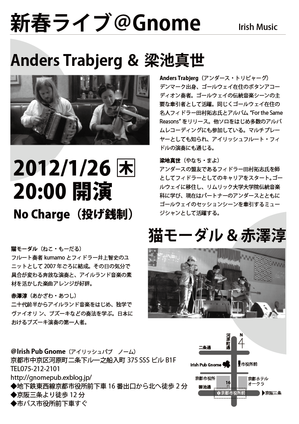 He will play with Mayo Yanachi (fiddle), Jun Akazawa (bouzouki), Akio Kumamoto (flute), & Tomofumi Inoue (fiddle). @ Gnome
No charge (tips please!)
Access map here.
Saturday January 28th  – max dodds again, this time playing a Tohoku Relief Concert @ Norwegian Wood Cafe & Bar
Charge: ¥2000 (with 1 drink and 1 food)
Access map here.
Sunday February 12th opens 7pm / starts 7.30pm – Local folk legend & good friend Udonya Mentei @ Viva La Musica
Singer/songwriter Udonya Mentei's shows are lively but rare – this show is not be missed!
No charge but tips please!
Access map here.
Saturday 25th & Sunday 26th open 6.30pm / start 7pm – Shakuhachi player & good friend, Yoshida Koichi's Yugao @ Zac Baran
Tickets (in advance): 2500 / On the door: 2800 / Students: 2200
Access map here.
For further details check http://yugao-music.com
Yugao cellist William says,
Kyoto's most eccentric fusion quartet YUGAO – shakuhachi, cello, piano, tabla – returns home from a brilliantly accoladed concert tour of Spain and France. Don't miss your chance to hear this unique only-in-Kyoto sound synthesis, newly invigorated and inspired and fattened on olives and wine. With an opening haiku/calligraphy improv featuring guest artist Katerina Nazarova. February 25th and 26th at Zac Baran. Be there!